2019 Summit
Pass Add-ons
Schedule
Array
(
    [0] => 68
    [1] => 86
    [2] => 114
    [3] => 115
    [4] => 116
    [5] => 117
    [6] => 118
    [7] => 119
    [8] => 120
    [9] => 121
)
1
Day 1 (2019) – Essentials

View Day

Christine Lay, MD, FAHS

Associate Professor of Neurology
University of Toronto, Canada

Watch Interview

Elizabeth Leroux, MD, FRCPC

Headache Clinic Director
Montreal University Health Center, Canada

Watch Interview

Patricia Pozo Rosich, MD, PhD

Director of Headache and Neurological Pain Research
Vall d'Hebron University Hospital, Spain

Watch Interview

Antoinette Maassen van den Brink, PhD

Associate Professor of Pharmacology
Erasmus MC, Netherlands

Watch Interview

Day 2 (2019) – Understanding

View Day

Anders Hougaard MD, PhD

Headache Specialist & Researcher
Danish Headache Center, Copenhagen University Hospital, Denmark

Watch Interview

Dimos-Dimitrios Mitsikostas, MD, PhD

Headache Clinic
Athens, Greece

Watch Interview

Lawrence C. Newman, MD

Director
NYU Langone Headache Division, USA

Watch Interview

Zaza Katsarava, MD, PhD

Professor of Neurology
University of Essen, Germany

Watch Interview

Day 3 (2019) – Types

View Day

Brian E. McGeeney, MD, MPH, MBA

Assistant Professor of Neurology
Boston University School of Medicine, USA

Watch Interview

Deborah Friedman, MD, MPH

Professor of Neurology & Neurotherapeutics and Ophthalmology and Headache Specialist
University of Texas Southwestern Medical Center

Watch Interview

Michael T. Teixido, MD

Assistant Professor of Otorhinolaryngology
Thomas Jefferson Medical College, USA

Watch Interview

Shazia Afridi, MD, PhD

Headache Lead for Neurology
Guy's and St. Thomas' NHS Trust, London, UK

Watch Interview

Day 4 (2019) – Triggers & Symptoms

View Day

Shivang Joshi, MD, MPH, RPh

Associate Professor of Clinical Pharmacy Practice and Headache Specialist
University of Buffalo School of Pharmacy, DENT Neurological Institute

Watch Interview

Andrew Charles, MD

Director
UCLA Goldberg Migraine Program, USA

Watch Interview

Anne MacGregor, MD

Professor
Barts and The London School of Medicine & Dentristry, UK

Watch Interview

Anna Andreou, PhD

Director of Headache Research
The Headache Centre, GSTT & King's College London, UK

Watch Interview

Day 5 (2019) – Alternative Treatments

View Day

Angel Moreno, NP

Nurse Practitioner
UCLA Goldberg Migraine Program, USA

Watch Interview

Mark Braschinsky, MD

Neurologist
Tartu University Hospital, Estonia

Watch Interview

Mattias Linde, MD, PhD

Professor and Consultant Neurologist
Norwegian University of Science and Technology, Norway

Watch Interview

Pierangelo Geppetti, MD

Professor in the Department of Health Sciences
University of Florence, Italy

Watch Interview

Day 6 (2019) – Treatments

View Day

Amaal Starling, MD

Neurologist
Mayo Clinic, USA

Watch Interview

Andrew Blumenfeld, MD

Director
Headache Center of Southern California, USA

Watch Interview

Uwe Reuter, MD, PhD, MBA

Professor of Neurology
Charite University Hospital of Berlin, Germany

Watch Interview

Eric Baron, DO

Staff Neurologist
Neurological Institute, Department of Neurology, Cleveland Clinic, USA

Watch Interview

Day 7 (2019) – Difficult Cases

View Day

David Dodick, MD

Director of Headache Program
Mayo Clinic, USA

Watch Interview

Christopher H. Gottschalk, MD, FAHS

Chief, Division of General Neurology
Yale School of Medicine, USA

Watch Interview

Rashmi Halker Singh, MD

Assistant Professor of Neurology
Mayo Clinic, USA

Watch Interview

Paolo Martelletti, MD

Professor & Director, Master of Headache Medicine
Sapienza University of Rome, Italy

Watch Interview

Day 8 (2019) – Living

View Day

Nim Lalvani

Executive Director
American Migraine Foundation, USA

Watch Interview

Kevin Lenaburg

Executive Director
CHAMP (Coalition of Headache And Migraine Patients), USA

Watch Interview

Stacey Worthy JD

Attorney and Executive Director
Aimed Alliance. USA

Watch Interview

Jaime Sanders

Patient Advocate
TheMigraineDiva.com, USA

Watch Interview

Day 9 (2019) – Highlights

View Day

Paula K. Dumas

Co-Host, Managing Editor
Migraine World Summit, MigraineAgain.com

Watch Interview

Day 10 (2019) – Encore Opening Night (Replay)

View Day

Andrew Charles, MD

Director
UCLA Goldberg Migraine Program, USA

Watch Interview

Dawn Buse, PhD

Professor of Neurology
Albert Einstein College of Medicine

Watch Interview

Robert Shapiro, MD

Professor of Neurology
University of Vermont

Watch Interview

Kristin Chenoweth

Award-Winning Singer and Actress


Watch Interview

Terrell Davis

NFL Hall of Famer


Watch Interview
FAQs
These are common questions and answers that relate to the Summit.  If you can't find a specific question please use the chat widget in the bottom right corner of the page.
Common Questions & Answers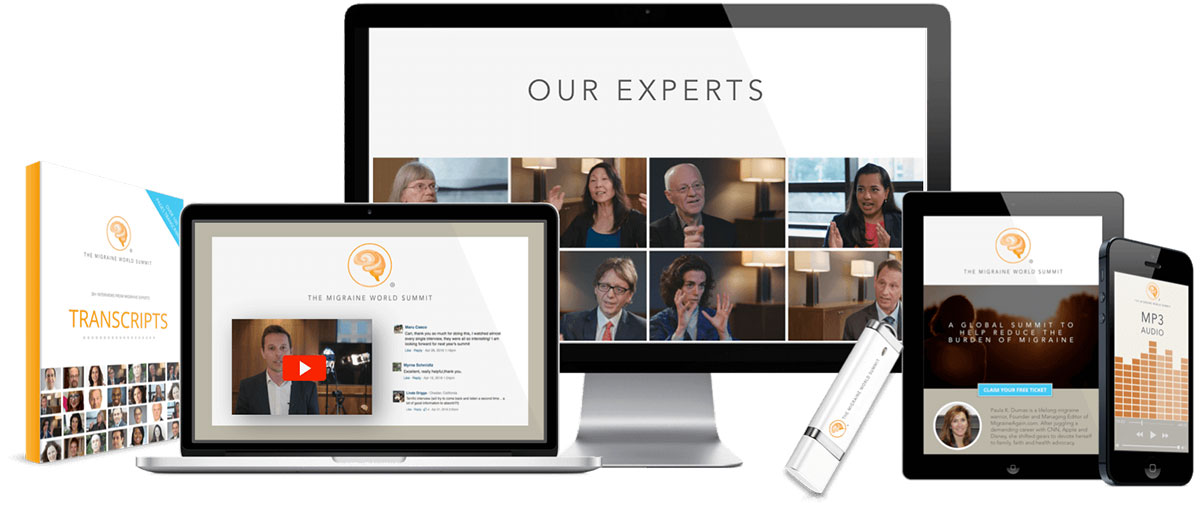 Unlock full access to the entire 2019 Summit, including:
30+ Expert interviews with audio clips and transcripts
Unlimited streaming and downloads
Lifetime access with no annual fee
Access Pass options
A special thanks to our sponsors who help make the Migraine World Summit possible.
Sponsors
(Click each sponsor image to learn more)