2017 Summit
Pass Add-ons
Schedule
Array
(
    [0] => 397
    [1] => 547
    [2] => 548
    [3] => 549
    [4] => 550
    [5] => 551
)
1
Day 1 (2017)

View Day

Peter Goadsby, MD

Professor of Neurology and Neurologist
King's College London, UK

Watch Video Interview

Susan Hutchinson, MD

Author - The Women's Guide to Managing Migraine
Orange County Migraine & Headache Center

Watch Video Interview

Dawn Buse, PhD

Professor of Neurology
Albert Einstein College of Medicine

Watch Video Interview

Allan Purdy, MD

Professor of Neurology
Dalhousie University, Canada

Watch Video Interview

Amaal Starling, MD

Neurologist
Mayo Clinic, USA

Watch Video Interview

Patricia Pozo Rosich, MD, PhD

Director of Headache and Neurological Pain Research
Vall d'Hebron University Hospital, Spain

Watch Video Interview

Day 2 (2017)

View Day

Lyn Griffiths, PhD

Executive Director
Institute of Health and Biomedical Innovation

Watch Video Interview

Andrew Charles, MD

Director
UCLA Goldberg Migraine Program

Watch Video Interview

Todd Schwedt, MD

Professor of Neurology
Mayo Clinic School of Medicine in Arizona

Watch Video Interview

Les Parrott, PhD

Founder
Center for Relationship Development

Watch Video Interview

Joanna Kempner, PhD

Author & Professor
Rutgers University

Watch Video Interview

Kerrie Smyres

Author
Migraine.com

Watch Video Interview

Day 3 (2017)

View Day

David Dodick, MD

Director of Headache Program
Mayo Clinic, Arizona

Watch Video Interview

William B. Young, MD

Neurologist and Headache Specialist
Jefferson Headache Center

Watch Video Interview

Bob Wold

Founder and President
Clusterbusters

Watch Video Interview

Zubair Ahmed

Neurologist
Cleveland Clinic

Watch Video Interview

Larry Charleston IV, MD

Neurologist
University of Michigan

Watch Video Interview

Vidyamala Burch

Founder
Breathworks

Watch Video Interview

Day 4 (2017)

View Day

Kathleen Digre, MD

Professor of Neuro-Opthamology
University of Utah

Watch Video Interview

Michael Steinberg

Expert Senior Meteorologist
Accuweather

Watch Video Interview

Andrew Charles, MD

Director
UCLA Goldberg Migraine Program

Watch Video Interview

Josh Turknett, MD

Author
The Migraine Miracle

Watch Video Interview

Jenni Grover Prokopy

Founder
ChronicBabe.com

Watch Video Interview

Matthew Robbins, MD

Associate Professor of Neurology and Residency Program Director
Weill Cornell Medicine, New York Presbyterian Hospital

Watch Video Interview

Day 5 (2017)

View Day

Bert Sperling

Founder
Best Places to Live

Watch Video Interview

Amy Gelfand, MD

Director of Pediatric Headache Program and Pediatric Headache Specialist
University of California, San Francisco

Watch Video Interview

Andrea Harriott, MD

Neurologist
Brigham and Women's Hospital

Watch Video Interview

Ping Ho

Founder and Director
UCLArts and Healing

Watch Video Interview

Brian Gifford, MD

Director of Research
Integrated Benefits Institute

Watch Video Interview

Lars Jacob Stovner, MD

President
Norwegian Migraine Society

Watch Video Interview

Day 6 (2017)

View Day

Deborah Friedman, MD, MPH, FAAN

Professor of Neurology & Ophthalmology
UT Southwestern

Watch Video Interview

Lawrence C. Newman, MD

Director
NYU Langone Headache Division, USA

Watch Video Interview

Richard Lipton, MD

Professor, Neurologist and Director
Montefiore Headache Center

Watch Video Interview

Paul R. Martin, PhD

Professor
Australian National University

Watch Video Interview

Brian Grosberg, MD

Director and Headache Specialist
Hartford HealthCare Headache Center

Watch Video Interview

Lisa Jacobson

Founder
The Daily Migraine

Watch Video Interview
FAQs
These are common questions and answers that relate to the Summit.  If you can't find a specific question please use the chat widget in the bottom right corner of the page.
Common Questions & Answers
Which interviews have the Extended Uncut Editions available?
The Extended Edition 2021 interviews include (listed alphabetically):
Autoimmune Disease and Migraine: What's the Link? - Peter McAllister, MD
Discovering New Treatments Worth Trying - David Dodick, MD
Migraine Diets and Food Triggers - Vince Martin, MD
Moving Through the Pain: Exercise and Migraine - Richard Lipton, MD
How An Integrative Approach Can Help Migraine - Deena Kuruvilla, MD, FAHS
How to Manage Weather Triggers - Jan Hoffmann, MD, PhD
How Your Gut and Sleep Affect Migraine - Stasha Gominak, MD
Juggling Multiple Conditions With Migraine - Rebecca C. Burch, MD, FAHS
Preventing Attacks Before They Happen - Jan Lewis Brandes, MD
Recovering From Trauma and Concussion - Morris Levin, MD
Shortening Attacks With Early Migraine Intervention - Andrew Charles, MD
What Causes Migraine and Its Symptoms - Catherine Stark, MD
Why Doesn't Migraine Have a Cure Yet? - Tissa Wijeratne, MD, FRACP, FAAN
Unlocking the Mystery of Migraine Pathogenesis - Peter Goadsby, MD
The Extended Edition interviews are only available to those who have ordered a copy of the 2021 Migraine World Summit. If you have previously ordered a pass, the Extended Edition interviews will be added to your purchase automatically.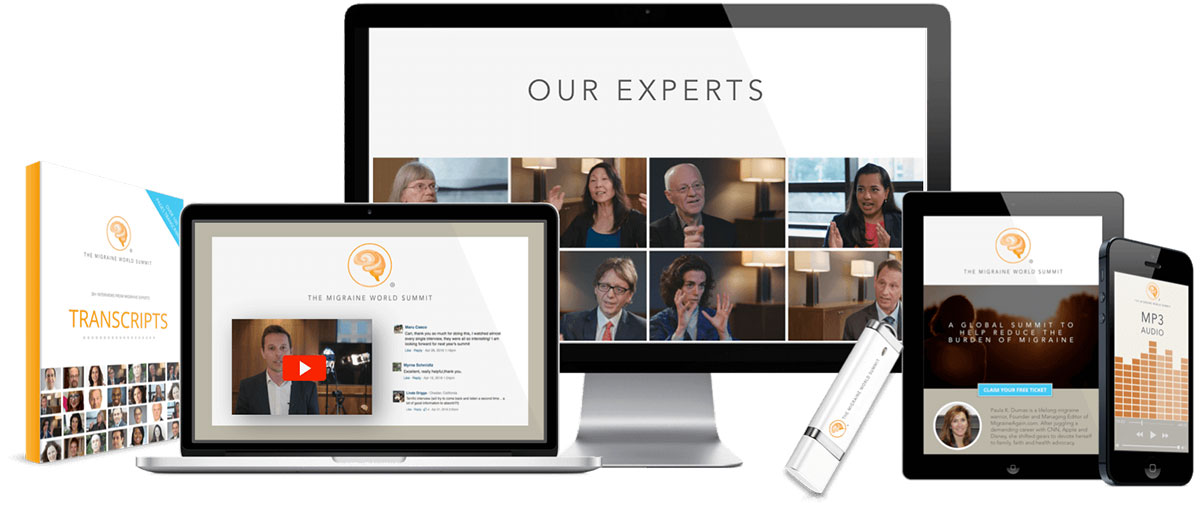 Get your own copy of the entire 2017 Summit
30+ Expert interviews with audio clips and transcripts
Unlimited streaming and downloads
Lifetime access with no annual fee
Access Pass options