2016 Summit
Schedule
Array
(
    [0] => 457
    [1] => 458
    [2] => 459
    [3] => 460
    [4] => 461
    [5] => 462
    [6] => 463
)
1
Day 1 (2016)

View Day

Alan Rapoport, MD

Immediate Past President, The International Headache Society
David Geffen School of Medicine at UCLA

Watch Interview

Robert Cowan, MD

Chief of Headache Medicine and Headache Specialist
Stanford University

Watch Interview

Christopher Oakley, MD

Neurologist
Johns Hopkins Headache Center

Watch Interview

Alexander Mauskop, MD

Director, Founder and Headache Specialist
New York Headache Center

Watch Interview

Dawn Buse, PhD

Professor of Neurology
Albert Einstein College of Medicine

Watch Interview

Wendy Thomas

Chief Executive
The Migraine Trust

Watch Interview

Day 2 (2016)

View Day

Richard Lipton, MD

Director
Montefiore Headache Center

Watch Interview

Paul Mathew, MD

Assistant Professor of Neurology
Harvard Medical School

Watch Interview

Romie Mustaq, MD

Neurologist
Expert contributor to national TV, news & radio

Watch Interview

Bradley Katz, MD

Neuro-ophthalmologist
Axon Optics / University of Utah

Watch Interview

Michael Greger, MD

General Practitioner
New York Times bestselling author

Watch Interview

Day 3 (2016)

View Day

Deborah Friedman, MD, MPH

Professor of Neurology & Neurotherapeutics and Ophthalmology and Headache Specialist
University of Texas Southwestern Medical Center

Watch Interview

Lyn Griffiths, PhD

Executive Director
Institute of Health and Biomedical Innovation

Watch Interview

Janet Geddis

"The Migraine Girl"
migraine.com

Watch Interview

Eileen Jones RN, PHN

Founder & President
Miles for Migraine

Watch Interview

Eric Baron, DO

Staff Neurologist
Neurological Institute, Department of Neurology, Cleveland Clinic, USA

Watch Interview

Seymour Diamond, MD

Executive Chairperson & Co-Founder
National Headache Foundation

Watch Interview

Day 4 (2016)

View Day

Stephen Silberstein, MD

Director and Headache Specialist
Jefferson Headache Center

Watch Interview

Alec Mian, PhD

Founder & CEO
Curelator Headache

Watch Interview

Paula K. Dumas

Co-Host, Managing Editor
Migraine World Summit, MigraineAgain.com

Watch Interview

Teshamae Monteith, MD

Assistant Professor of Clinical Neurology & Director of the Headache Program
University of Miami

Watch Interview

Gerald Edmunds

Secretary General
Headache Australia

Watch Interview

Day 5 (2016)

View Day

Merle Diamond, MD

President, Managing Director
Diamond Headache Clinic

Watch Interview

Maryann Mays, MD

Neurologist
Cleveland Clinic

Watch Interview

Pierre Rigaux, MD

CEO
Cefaly Technology

Watch Interview

Karl Ng, MD

Director of Neurophysiology
Sydney North Neurology

Watch Interview

Mark Green, MD

Director of the Center for Headache and Pain Medicine
Mount Sinai School of Medicine

Watch Interview

Day 6 (2016)

View Day

Elliot Shevel, MD

Medical Director & Founder
The Headache Clinic

Watch Interview

Francois Cadiou

Co-Founder & CEO
Healint/Migraine Buddy

Watch Interview

James Cottrill

Headache blogger
Headache and Migraine News

Watch Interview

Markus Dahlem, PhD


Harvard University / Humboldt University

Watch Interview

Tad Seifert, MD

Director of Sport Concussion Program
Norton Healthcare

Watch Interview
View Day
FAQs
These are common questions and answers that relate to the Summit.  If you can't find a specific question please use the chat widget in the bottom right corner of the page.
Common Questions & Answers
When does the next Migraine World Summit start?
The online Migraine World Summit takes place each year in March. The most recent event was held March 18-26, 2020. To view some of the experts interviews and recieve weekly highlights and information from the 2020 event, make sure you subscribe via email our homepage.
How much does it cost?
The online Migraine World Summit is free to watch during the live event. Each day four interviews are released and are available for 24 hours before the next day's interviews are released.
If you wish to purchase unlimited access to all the interviews, video, audio, and transcripts from this year you can order your own copy. Click the link below to visit the order page.
Can we access earlier summits? (2016-2019)
Yes, the earlier Migraine World Summits from 2016-2019 are available. Most interviews are as relevant today as when they first aired. As a registered visitor you can watch the first 2 days of each Summit in their entirety. For the remaining days you can enjoy a preview of each interview. As a paid member, you can watch all the interviews for that year's summit.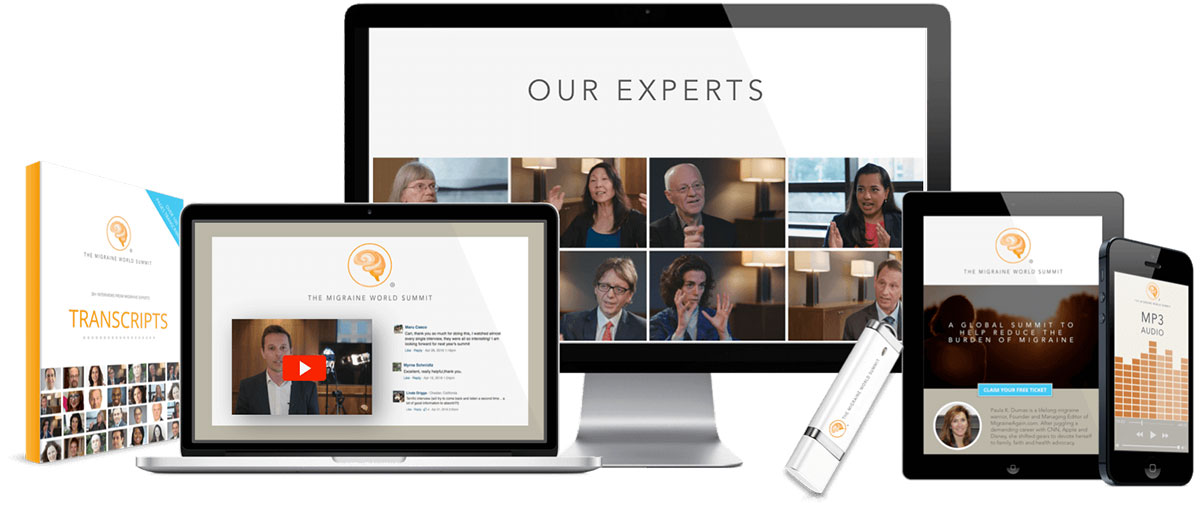 Unlock full access to the entire 2016 Summit, including:
30+ Expert interviews with audio clips and transcripts
Unlimited streaming and downloads
Lifetime access with no annual fee
Access Pass options