Building Resilience
You are currently watching a preview of this interview. Unlock the full version by upgrading to an Access Pass bundle! Get FREE access to 8 expert interviews from Day 1 and Day 2 when you register today!
---
Key Questions
In this recorded webinar Professor Dawn Buse covers:
How to manage inevitable difficulties?
What is resilience?
What to do when we face adversity, misfortune, frustration?
Tips to "bounce back"
Additional stressors we should be aware of currently
What are some scientifically proven ways to enhance resilience?
---
The Migraine World Summit are running a live expert webinar EVERY DAY during the June Replay of the 2020 Migraine World Summit, June 10 – 19.
Webinar Access
Live attendance for each webinar will be available exclusively for those who purchased an All Access, VIP, or Box Set Pass for the 2020 Migraine World Summit. This is a special opportunity for customers to connect with a different expert each day, engage in live Q&A, and interact with other participants and Summit hosts.
If you didn't buy an Access Pass, don't worry! The recording of each webinar will be shared with the entire Migraine World Summit community on this page shortly after the live event takes place, allowing everyone to take advantage of the important information presented during that day's webinar.
This is our way to recognize those who have supported the 2020 Migraine World Summit financially while making sure our entire community has access to critical information about the changes taking place in the migraine community and beyond.
Webinar Lineup
Each day during the Replay period, the live webinar will take place at 5:00 pm Eastern Time (New York).
Here's the lineup for the webinar topics: 
5:00 pm (ET) June 10 – Mental Health & Building Resilience

5:00 pm (ET) June 11 – Understanding Causes 

5:00 pm (ET) June 12 – COVID-19 Considerations for Migraine Patients

5:00 pm (ET) June 13 – Understanding Symptoms

5:00 pm (ET) June 14 – Understanding Triggers 

5:00 pm (ET) June 15 – Non-Drug Options 

5:00 pm (ET) June 16 – New Treatments 

5:00 pm (ET) June 17 – Telemedicine 

5:00 pm (ET) June 18 – Finding Calm in a Crisis 

5:00 pm (ET) June 19 – The Role of Self Management
Don't miss out! Get your access pass here to attend the live expert webinars.
Dawn Buse, PhD
Professor of Neurology
Albert Einstein College of Medicine
Dr. Dawn C. Buse is a professor in the Department of Neurology at the Albert Einstein College of Medicine, Yeshiva University and an assistant professor in the Clinical Health Psychology Doctoral Program at the Ferkauf Graduate School of Psychology, Yeshiva University. She is a clinical psychologist and a fellow of the American Headache Society and was previously Director of Behavioral Medicine for the Montefiore Headache Center in New York. Dr. Buse is a co-investigator on the American Migraine Prevalence and Prevention (AMPP) Study, the Chronic Migraine Epidemiology and Outcomes (CAMEO) Study and the International Burden of Migraine (IBMS) Study. She is on the American Headache Society Board of Directors and the American Academy of Neurology Digital Strategy Subcommittee.
Dr. Buse has co-authored 76 peer-reviewed scientific journals, 54 review articles and book chapters and 343 scientific abstracts. Her manuscripts have won the American Headache Society's "Wolff Award" twice, the Italian Society for the Study of Headache's "Enrico Greppi Award" twice, the British Medical Journal's "Patient's Choice Award", and the 2015 "HeadacheReader's Choice" Award. In 2009 she won the National Headache Foundation, "Partners in Excellence" Award and in 2016 she won the American Headache Society "Seymour Solomon" Award. Dr. Buse is the psychological and behavioral section editor for Current Pain and Headache Reports and she serves on the advisory board of the Journal of Headache and Pain,Pain Management News, and Pain Pathways Magazine.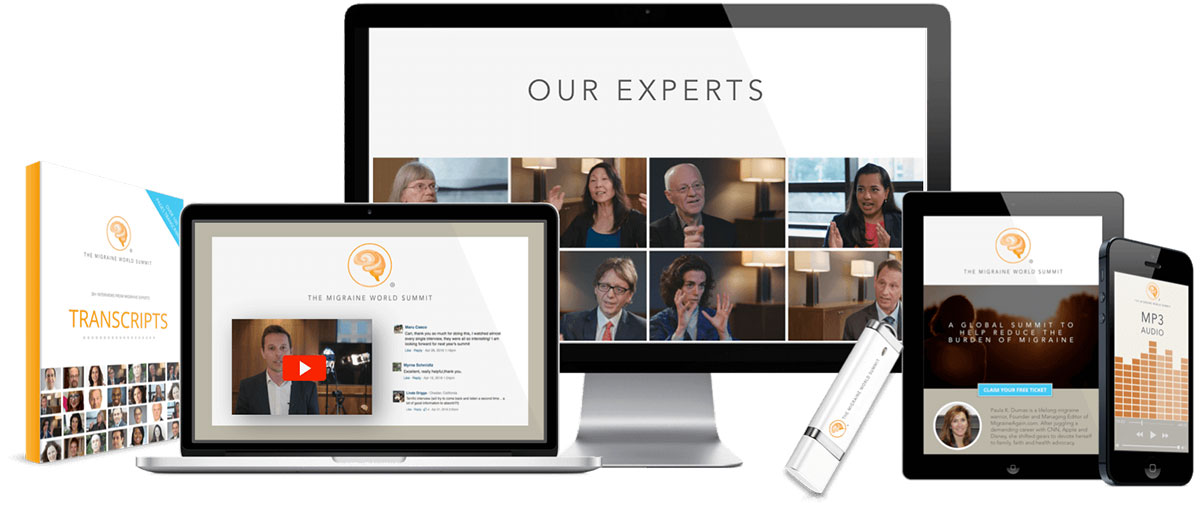 Get your own copy of the entire Summit
30+ Expert interviews with audio clips and transcripts
Unlimited streaming and downloads
Lifetime access with no annual fee
Access Pass options
Related Talks for:
Day 1 (2020) Real Warriors
The Coalition For Headache And Migraine Patients (CHAMP) is a new organization that provides support to people with headache, migraine and cluster diseases who are often stigmatized and under-served.
CHAMP brings together organizations and leaders in this disease area to enhance communication, coordination and collaboration to more effectively help people wherever they are on their patient journey.
CHAMP is working to identify unmet needs of those with headache, migraine and cluster diseases, and will work to better support patients and their caregivers.
View more/less
Amgen is one of the world's leading biotechnology companies and Novartis has nearly 70 years of experience in neuroscience, and both are committed to leading the charge together to fight the public misconceptions, stereotypes and the burden of migraine.
View more/less
Watch videos in silence or read along with the expert interview. Simply turn on CC in video controls in the lower right corner of the video. Please note, closed caption is not available on preview videos.
View more/less