Patient Panel: Thriving Despite Migraine
You are currently watching a preview of this interview. Unlock the full version by upgrading to an Access Pass bundle! Get FREE access to 8 expert interviews from Day 1 and Day 2 when you register today!
---
Key Questions
What does a typical migraine attack look like for each of you?
What are the steps that each of you takes when an attack begins?
How has migraine progressed over the years for each of you?
What has been your experience in interacting with health care professionals?
What treatments and strategies do each of you use to manage your attacks?
What are some preventive strategies — whether alternative, lifestyle, or medicinal — that each of you use?
How do each of you balance the tension between living your life and trying to enjoy it, but at the same time, managing your health and the routine that often is required for chronic migraine?
Have any of you experienced isolation and/or depression while trying to live with migraine disease?
Have any of you had to manage migraine in a workplace environment?
How has migraine affected your family lives?
What role has education played in your own self-management of the condition?
What are your biggest successes and biggest failures in living with migraine?
Interview Notes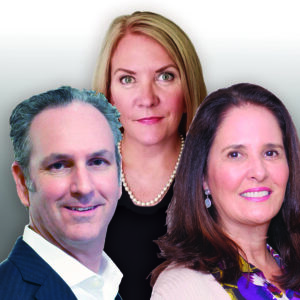 Jon Summer, Alicia Torborg, Shirley Kessel
Patient Advocates
American Migraine Foundation, Association of Migraine Disorders, Miles for Migraine
We have three leading advocates who comprise our patient panel. They each leverage their personal experience with migraine to improve the quality of life for people with the disease. Jon Summer is a board member of the American Migraine Foundation, Shirley Kessel is the executive director of Miles for Migraine, and Alicia Torborg is the executive director of the Association of Migraine Disorders. They are all very open with their successes, failures, practical tips, and tools on how they live, manage, or just cope with migraine.
Jon Summer had a successful career in the fast-paced business world, owning and managing several businesses, until chronic migraine made other plans for him. Although he deals with his own challenges brought on by migraine, Jon is happy to lend his experience and entrepreneurial mind to the American Migraine Foundation, offering valuable perspective from both a business and patient standpoint. Jon understands intimately that migraine is so much more than a headache as he continues to battle intractable migraine and the many side effects that come with the disease. He hopes his work as a migraine advocate will bring us closer to treatment options that better alleviate the suffering of millions of people worldwide with migraine — or, even better, brings us closer to a cure.
Shirley Kessel is the mom of three daughters, two of whom live with migraine. When her youngest daughter, Sydney, became diagnosed at an early age, they both decided that it was time to take action to bring awareness and raise money for migraine research. In 2013, Shirley helped bring Miles for Migraine to the Philadelphia community, and she became the executive director in 2017 when it became apparent that Miles for Migraine should take the race series nationwide. Shirley has worked in health care for the past 26 years and has served on various nonprofit boards since 1991. She won't retire until a cure is found for this disabling disease.
Alicia Torborg began her professional career in the mortgage banking business, working as director of quality and process improvement at Fidelity. Later, she was recruited by her otolaryngologist, who was treating her for migraine disease, to become the executive director of the Association of Migraine Disorders. As someone who has lived with migraine disease since childhood, Torborg understands balance is important to achieving good health, and she seeks that equilibrium in her own life by keeping active outside of work. She has completed five triathlons, and enjoys kayaking and hiking.

Watch at your own pace & get additional expert interview footage when you purchase the 2023 Migraine World Summit. Includes:
All expert interviews with seperate audio (MP3) files & transcripts
30 extended, uncut interview editions with 6.5 hours of bonus expert footage
Lifetime access with no annual fee
Access Pass options
Related Talks for:
Day 1 (2020) Real Warriors
The Coalition For Headache And Migraine Patients (CHAMP) is a new organization that provides support to people with headache, migraine and cluster diseases who are often stigmatized and under-served.
CHAMP brings together organizations and leaders in this disease area to enhance communication, coordination and collaboration to more effectively help people wherever they are on their patient journey.
CHAMP is working to identify unmet needs of those with headache, migraine and cluster diseases, and will work to better support patients and their caregivers.
View more/less
Amgen is one of the world's leading biotechnology companies and Novartis has nearly 70 years of experience in neuroscience, and both are committed to leading the charge together to fight the public misconceptions, stereotypes and the burden of migraine.
View more/less
Watch videos in silence or read along with the expert interview. Simply turn on CC in video controls in the lower right corner of the video. Please note, closed caption is not available on preview videos.
View more/less