How to Avoid or Prepare for the ER
You are currently watching a preview of this interview. Unlock the full version by upgrading to an Access Pass bundle! Get FREE access to 8 expert interviews from Day 1 and Day 2 when you register today!
---
Key Questions
When should someone experiencing a migraine attack go to the ER?
What are some reasons people avoid the ER when experiencing an attack?
Beyond head pain, what other symptoms that accompany migraine might warrant a trip to the ER?
What steps can be taken at home to help avoid the ER during a migraine attack?
How can an ER visit impact one's mental health?
How can we counter the perception that those with migraine are "drug seekers" when seeking emergency care?
How can we work with our physician to write a migraine treatment protocol to be used at the ER?
What information might this protocol contain?
Where besides the ER can an individual seek emergency care for an attack?
Interview Notes
Treatments Mentioned
Antiemetics 

Cooling patches

Cryotherapy

Dexamethasone (Decadron)

Diphenhydramine (Benadryl)

Ginger chews

Headache Hat

Ketorolac (Toradol)

Magnesium

Methylated rubs

Migraine glasses

Neuromodulation devices

Peppermint

Prochlorperazine (Compazine)

Promethazine (Phenergan) 

Saline
Please note: The Migraine World Summit's aim is to bring you a variety of perspectives and expertise, independent of bias or judgment. Alternative theories presented in this video have not been medically reviewed. Views expressed in this interview do not necessarily represent the views of the Migraine World Summit. Please always consult your health care professional and do your own research before making changes to your treatment plan.
Jaime Sanders
Patient Advocate & Blogger
The Migraine Diva
Jaime Sanders is a patient advocate, blogger, and mother of three. She lives with chronic migraine, fibromyalgia, depression, and anxiety. Jaime has a popular blog called The Migraine Diva, which is her personal diary, platform for her advocacy, and sounding board where readers can learn how chronic pain affects a person and their family. She is a partner with the Coalition for Headache and Migraine Patients (CHAMP) and is a part of the leadership of the Disparities in Headache Advisory Council. Jaime also partners with the Headache and Migraine Policy Forum, the Society for Women's Health Research Interdisciplinary Migraine Network, the HealthyWomen Chronic Pain Advisory Council, and the Patient Leadership Council with the National Headache Foundation. Through her advocacy work and blog, Jaime's mission is to make a very invisible disease visible to the rest of the world and validate the real pain of millions.

Watch at your own pace & get additional expert interview footage when you purchase the 2023 Migraine World Summit. Includes:
All expert interviews with seperate audio (MP3) files & transcripts
30 extended, uncut interview editions with 6.5 hours of bonus expert footage
Lifetime access with no annual fee
Access Pass options
Related Talks for:
Day 3 – 2023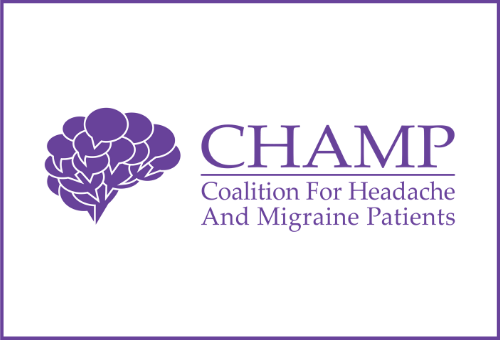 The Coalition For Headache And Migraine Patients (CHAMP) is an organization that provides support to people with headache, migraine and cluster diseases who are often stigmatized and under-served.
View more/less
Amgen is committed to unlocking the potential of biology for patients suffering from serious illnesses by discovering, developing, manufacturing and delivering innovative human therapeutics. A biotechnology pioneer since 1980, Amgen has grown to be one of the world's leading independent biotechnology companies and has reached millions of patients globally.
View more/less
Adjust video play speed to go faster or slower. Calibrate video speed if you are feeling good or tired and foggy. You can also adjust the video resolution if your internet connection is busy.
View more/less