10 Steps to Migraine Management Your Doctor Should be Taking
You are currently watching a preview of this interview. Unlock the full version by upgrading to an Access Pass bundle! Get FREE access to 8 expert interviews from Day 1 and Day 2 when you register today!
---
Key Questions
What is the 10-step migraine diagnosis and management consensus guideline published by a European panel of researchers?
How and why was this 10-step plan developed?
Is the 10-step plan appropriate for children?
How does this plan differ from previous guidelines?
Will this 10-step plan be adopted and implemented worldwide?
Is the 10-step plan completely evidence-based?
Migraine is so varied in its expression — could one approach possibly work for all types of migraine?
How will these steps empower GPs to diagnose and manage the treatment of their migraine patients?
Why is it important for GPs to be part of migraine care even if the patient has a neurologist or headache specialist?
How does this 10-step plan address the mismanagement, misdiagnosis, and underdiagnosis of migraine?
In this plan, what steps are part of the diagnosis phase?
What criteria are most important for migraine diagnosis? Are light sensitivity or nausea relevant here?
When is neuroimaging appropriate or necessary when diagnosing migraine?
How should physicians distinguish between primary and secondary headache disorders?
What is considered a success in treatment?
What should patients know about trigger factors?
Why is an individualized treatment plan and care so important?
What are first-line medications for acute treatment?
Why shouldn't everyone use a triptan, ditan, or gepant?
Is there a role for neuromodulation devices to abort an attack?
Why is step 5, preventive care, critically important?
When is a preventative treatment considered?
Why are CGRP inhibitors considered third-line treatments?
What affordable, effective, and accessible first-line treatments are available in low-income countries?
How do preventive medications make acute medications more effective?
What special considerations apply to special populations, like older adults and children, and circumstances like pregnancy and breastfeeding?
What tools are helpful for patients to collect data for follow-up appointments?
How can doctors adjust when a patient experiences treatment failure?
How important is it for GPs to discuss acute medications' possible complications and adverse reactions?
Should a GP or a headache specialist manage migraine comorbidities?
Is there a point at which it's appropriate to return to the care of a GP after seeing a specialist?
What is the best way for a patient to share this 10-step approach with their health care provider, who might not be familiar with it?
Interview Notes
Find more about Messoud Ashina, MD and his work here:
Treatments Mentioned
Beta blockers
CGRP monoclonal antibodies
Diclofenac potassium
Ditans
Gepants
Lasmiditan
Neuromodulation devices
NSAIDs
Topiramate
Triptans
Trudhesa (DHE device for upper nasal space)
Please note: The Migraine World Summit's aim is to bring you a variety of perspectives and expertise, independent of bias or judgment. Alternative theories presented in this video have not been medically reviewed. Views expressed in this interview do not necessarily represent the views of the Migraine World Summit. Please always consult your health care professional and do your own research before making changes to your treatment plan.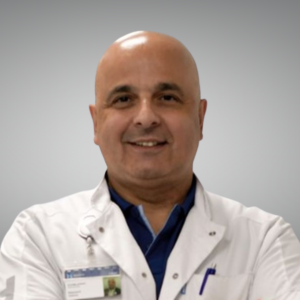 Messoud Ashina, MD, PhD, DMSc
Professor of Neurology
Danish Headache Center, Rigshospitalet Glostrup, University of Copenhagen
Messoud Ashina, MD is a professor of neurology in the faculty of health and medical sciences, University of Copenhagen, Denmark. Professor Ashina received his doctor of medicine degree at the Azerbaijan Medical University. He completed his residency in neurology at the University of Copenhagen. Dr. Ashina received his PhD and DMSc degrees at the University of Copenhagen.
He is director of the Human Migraine Research Unit at the Danish Headache Center and Department of Neurology, Rigshospitalet Glostrup.
Professor Ashina has been actively involved in headache research since 1995. His research interests include experimental migraine and cluster headache models, neuroimaging, novel antimigraine drug targets, the mechanism of migraine, and the action of antimigraine medications. He has authored over 400 papers, abstracts, and book chapters on the topic of headache, including migraine and cluster headache.
Professor Ashina serves as associate editor of three journals: Cephalalgia, Brain, and The Journal of Headache and Pain. He is also immediate past president of the International Headache Society.

Pre-purchase full access to the entire [YEAR] Summit, including:
All expert interviews with separate audio (MP3) files & transcripts
30 extended, uncut interview editions with 6.5 hours of bonus expert footage
Lifetime access with no annual fee
Related Talks for:
Day 2 (2022)
The American Migraine Foundation (AMF) is a non-profit organization dedicated to the advancement of research and awareness surrounding migraine, a disabling condition that impacts more than 37 million men, women and children in the United States. The AMF was founded in 2010 to provide global access to information and resources for individuals with migraine as well as their family and friends.
View more/less
Video Chapters are available for every 30-minute interview during the 2022 Migraine World Summit. Use the chapters to easily navigate to relevant segments to find answers faster. Click on the bullet icon next to the video settings to enable chapters.
View more/less