Migraine & Headache Research Frontiers
You are currently watching a preview of this interview. Unlock the full version by upgrading to an Access Pass bundle! Get FREE access to 8 expert interviews from Day 1 and Day 2 when you register today!
---
Key Questions
What have we learned about the effectiveness and side effects of CGRP monoclonal antibodies (mAbs)?
What further research is being done on CGRP?
What are the limitations of clinical trials?
Why is it so important to have data from groups excluded from clinical trials, such as the elderly, children, pregnant women, and those with comorbidities?
What new treatments are on the horizon, following the huge breakthrough of CGRP inhibitors?
What is PACAP (pituitary adenylate cyclase-activating polypeptide) and what role does it play in migraine?
How is PACAP different from CGRP?
How close are we to seeing treatments targeting PACAP?
What is adenosine, and what role could it play in treating migraine?
What are ATP-sensitive potassium channels (KATP) and how might they be a target for treatment?
What does the evidence say about the use of psychedelics for migraine treatment?
Does research support the use of medical cannabis for managing migraine?
What are migraine biomarkers?
How do biomarkers affect the diagnosis and treatment of migraine?
What is the gut-brain relationship?
Do people with migraine have an increased risk of dementia?
What is the relationship between migraine and mental health?
What other types of migraine treatments are on the horizon?
Interview Notes
Treatments Mentioned
Adenosine
Aspirin
Caffeine
Cannabis
CGRP inhibitors
CGRP monoclonal antibodies (mAbs)
CGRP receptor antagonists (gepants)
LSD (lysergic acid diethylamide)
Psilocybin
Triptans
Please note: The Migraine World Summit's aim is to bring you a variety of perspectives and expertise, independent of bias or judgment. Alternative theories presented in this video have not been medically reviewed. Views expressed in this interview do not necessarily represent the views of the Migraine World Summit. Please always consult your health care professional and do your own research before making changes to your treatment plan.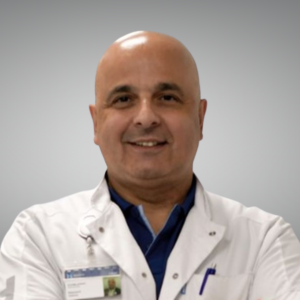 Messoud Ashina, MD
Professor of Neurology
Danish Headache Center, Rigshospitalet Glostrup, University of Copenhagen
Messoud Ashina, MD is a professor of neurology in the faculty of health and medical sciences, University of Copenhagen, Denmark. Professor Ashina received his doctor of medicine degree at the Azerbaijan Medical University. He completed his residency in neurology at the University of Copenhagen. Dr. Ashina received his PhD and DMSc degrees at the University of Copenhagen.
He is director of the Human Migraine Research Unit at the Danish Headache Center and Department of Neurology, Rigshospitalet Glostrup.
Professor Ashina has been actively involved in headache research since 1995. His research interests include experimental migraine and cluster headache models, neuroimaging, novel antimigraine drug targets, the mechanism of migraine, and the action of antimigraine medications. He has authored over 400 papers, abstracts, and book chapters on the topic of headache, including migraine and cluster headache.
Professor Ashina serves as associate editor of three journals: Cephalalgia, Brain, and The Journal of Headache and Pain. He is also immediate past president of the International Headache Society.

Watch at your own pace & get additional expert interview footage when you purchase the 2023 Migraine World Summit. Includes:
All expert interviews with seperate audio (MP3) files & transcripts
30 extended, uncut interview editions with 6.5 hours of bonus expert footage
Lifetime access with no annual fee
Access Pass options
Related Talks for:
Day 8 – 2023
We support research for better treatments and a cure while advocating to improve the lives of those struggling with cluster headaches.
View more/less
We're working together to give employers and employees the tools they need to create healthier, stigma-free, and more productive workplaces for those living with migraine disease.
View more/less
The VIP Treatment Directory lists over 300 options including treatments, therapies, devices, procedures, strategies and approaches to treat or prevent migraine. Only available with the VIP Access Pass. Learn more at the order page.
View more/less