What should kids know about migraine and how to help during an attack?
---
Description
Many parents worry about the impact of migraine on their children. Age-appropriate communication about migraine and the ways they can help during an attack is important for kids and parents.
Transcript
"… children grow up just fine with parents with all sorts of health limitations, financial limitations, and all sorts of challenges in their life. Children are really resilient. I think the parents maybe worry even more than the children feel it. There are several things parents can do to lighten the impact on children. As we talked about with the spouse, also with children, communicate. Talk it out. Think about what might be the right level of explanation for talking to a toddler versus a college student. We're going to explain migraine a little different, but talk it out. Now this is really important because migraine might look really scary to a child. They're going to see Mommy or Daddy is in pain, their eyes are closed, and they're maybe making painful noises. They're in a dark room. They're isolated.
They may have paralysis on one side of their body or numbness or tingling.
"This could be very scary to a child. So it's very important when you're not having a migraine, to talk through what a migraine is. Maybe watch a video together on YouTube or maybe give a little bit of explanation as to what happens in the brain. Then talk about, this will go on for several hours but when this is over Mommy or Daddy will be OK and we'll be back to our normal selves.
"In addition, whatever age your child is, give them a way they can help you. If you've got a 2-year-old, have your spouse or your significant other give them a wet washcloth to bring to you and say, 'Oh, Mommy really likes that. That cool wash cloth makes my forehead feel better.' Everyone likes to help. Family members, friends, everyone and children like to help too. They like to feel like they're able to do something so let them help, let them bring you a snack. Let them maybe sit and cuddle quietly with you and bring their favorite stuffed animal, or bring their favorite book and read you their book softly.
"Think about ways you can incorporate them, partially to destigmatize the experience so it doesn't look as scary to them and partially so they're still part of your life and they're still interacting with you. Let them help."
This is a short segment of a full video interview. View the full version by upgrading to an Access Pass bundle! Get FREE access to 8 expert interviews from Day 1 and Day 2 when you register today!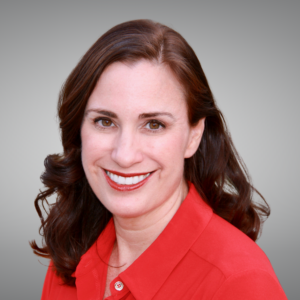 Dawn C. Buse, PhD
Psychologist & Clinical Professor
Albert Einstein College of Medicine
Dawn C. Buse, PhD, is a clinical professor of neurology at Albert Einstein College of Medicine, a member of the board of directors of the American Headache Society, and a licensed psychologist. She has authored more than 200 scientific publications and has won eight U.S. and international research awards and four professional awards for her work in the field of migraine.
She is a co-investigator on numerous U.S. and international studies, including the American Migraine Prevalence and Prevention (AMPP) study, the Chronic Migraine Epidemiology and Outcomes (CaMEO) study, the Migraine Signature Study (MSS), the International Burden of Migraine Study (IBMS), the Migraine in America Symptoms and Treatment (MAST) study, the Observational Survey of the Epidemiology, Treatment and Care of Migraine (OVERCOME) study, and the FDA-sponsored Migraine Clinical Outcome Assessment System (MiCOAS) grant, which is gathering patient input for the development of migraine clinical trial endpoints. She is an advocate for the well-being of patients and healthcare professionals.