Why did my migraine attacks come back after stopping for so long?
---
Description
For those accustomed to having them frequently, it can be exhilarating to experience an extended time without a migraine attack. While enjoying that time, it may also be helpful to know they could return at some point, and to plan your migraine care and treatment accordingly.
Transcript
"We've had people, and I've had people, come in and say, 'Dr. Purdy, I'm never going to have another migraine.' They stopped for six months. I say, 'Oh my, that's good, but maybe we should make an appointment in another six months, because you know what? They
can come back.' You don't do that to cause distress; you do it because people when they're so free of this disorder, which is not just headache, it's the whole body responding to the world within. It's a sensitive brain that doesn't react well with the world around it. When they get rid of this, they feel so good, they actually believe it's never going to come back, but it does."
This is a short segment of a full video interview. View the full version by upgrading to an Access Pass bundle! Get FREE access to 8 expert interviews from Day 1 and Day 2 when you register today!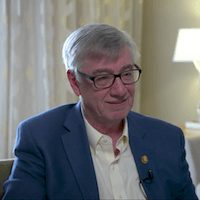 Allan Purdy, MD
Professor of Neurology
Dalhousie University, Canada
Dr. Allan Purdy is a neurologist and a professor at Dalhousie University in Nova Scotia, Canada. Dr. Purdy is currently President of the American Headache Society. He has also served as president of the Canadian Headache Society and on the Board of Directors for the International Headache Society.
Dr. Purdy is regarded as one of the most gifted teachers in the field, developing educational programs for physicians around the world who care for patients with headache diseases. In addition to his research and education work, Dr. Purdy continues to see headache patients in his Canadian clinic on a part-time basis.