2017

Access Pass

Get your personal copy of the 2017 Migraine World Summit with an Access Pass!
---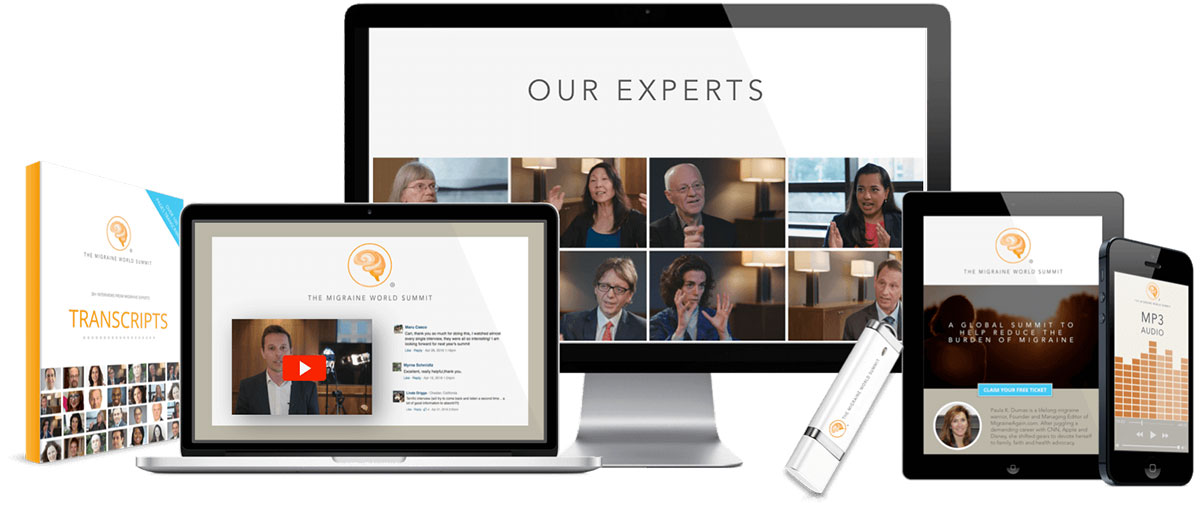 The Complete Bundle
Get all the 2017 interviews, videos, audio, transcripts, and more delivered to your door.
Instant online access for unlimited streaming and downloads
No annual fee - Lifetime access
Access to member comment threads
And more! see all features
Our Expert Speakers & Topics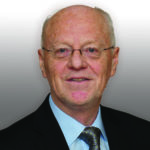 The Top 10 Migraine Myths to Bust
Peter Goadsby, MD
Professor of Neurology
King's College London, UK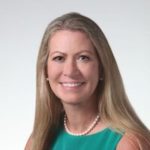 Managing Hormonal Migraines Through Menopause
Susan Hutchinson, MD
Author - The Women's Guide to Managing Migraine
Orange County Migraine & Headache Center
Is Your Family Time Affected by Migraine?
Dawn Buse, PhD
Professor of Neurology
Albert Einstein College of Medicine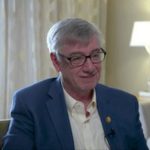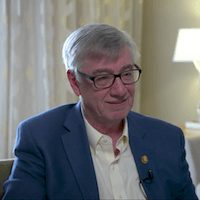 How to Make Sure You Actually Have Migraine
Allan Purdy, MD
Professor of Neurology
Dalhousie University, Canada
SEEDS Natural Method for Migraine Control
Amaal Starling, MD
Neurologist
Mayo Clinic, USA
Solving the Puzzle of What's Causing Migraines
Patricia Pozo Rosich, MD, PhD
Director of Headache and Neurological Pain Research
Vall d'Hebron University Hospital, Spain
Migraine Genetics: Unlocking a Cure for Migraine
Lyn Griffiths
Executive Director
Institute of Health and Biomedical Innovation
Recognizing and Treating 4 Phases of Migraine
Andrew Charles, MD
Director
UCLA Goldberg Migraine Program, USA
Understanding the Hypersensitive Migraine Brain
Todd Schwedt, MD
Professor of Neurology
Mayo Clinic School of Medicine in Arizona
Navigating Love, Marriage and Migraine
Les Parrott, PhD
Founder
Center for Relationship Development
Shifting Cultural Perceptions About Migraine
Joanna Kempner, PhD
Author & Professor
Rutgers University
How to Build a Good Relationship with Your Doctor
Kerrie Smyres
Author
Migraine.com
Rare Migraine Types: Vestibular, Hemiplegic, Complicated
David Dodick, MD
Director of Headache Program
Mayo Clinic, USA
Breaking the Vicious Cycle of Chronic Migraine
William B. Young, MD
Neurologist
Jefferson Headache Center
Managing The Excruciating Pain of Cluster Headache
Bob Wold
Founder and President
Clusterbusters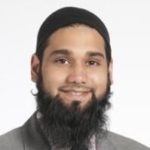 Unrelenting Daily Headaches and Migraines
Zubair Ahmed
Neurologist
Cleveland Clinic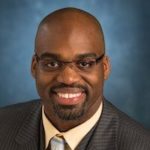 When Medications Actually Trigger Pain
Larry Charleston IV, MD
Neurologist
University of Michigan
Using Mindfulness to Fight Chronic Pain
Vidyamala Burch
Founder
Breathworks
Managing Light Sensitivity and Migraine
Kathleen Digre, MD
Professor of Neuro-Opthamology
University of Utah
Weather-Related Migraine
Michael Steinberg
Expert Senior Meteorologist
Accuweather
Neck Pain and Migraine: Trigger or Symptom
Andrew Charles, MD
Director
UCLA Goldberg Migraine Program, USA
Eat to Thrive: How an Ancestral Diet Fights Migraine
Josh Turknett, MD
Author
The Migraine Miracle
Living As Well As Possible with Chronic Pain
Jenni Grover Prokopy
Founder
ChronicBabe.com
Planning for Pregnancy with Migraine
Matthew Robbins, MD
Director, Inpatient Services
Montefiore Headache Center
Best and Worst Places to Live with Migraine
Bert Sperling
Founder
Best Places to Live
Best Therapies that are Safe for Kids
Amy Gelfand, MD
Director of Pediatric Headache Program
UCSF
Best and Worst Supplements for Migraine
Andrea Harriott, MD
Neurologist
Brigham and Women's Hospital
Arts & Healing: Coping via Creative Expression
Ping Ho
Founder and Director
UCLArts and Healing
Calling in Sick: An Employer's Perspective of Migraine at Work
Brian Gifford, MD
Director of Research
Integrated Benefits Institute
Migraine Statistics and Costs
Lars Jacob Stovner, MD
President
Norwegian Migraine Society
Research Pipeline: New Migraine Therapies in Development
Deborah Friedman, MD, MPH, FAAN
Professor of Neurology & Neurotherapeutics and Ophthalmology
University of Texas Southwestern Medical Center, USA
Best Acute Treatments You May Not Have Tried
Lawrence C. Newman, MD
Director
NYU Langone Headache Division, USA
Managing Migraine Emergencies: Avoiding the ER
Richard Lipton, MD
Director
Montefiore Headache Center
Behavioural Treatments for Migraine
Paul R. Martin
Professor
Griffith University, Australia
Neuromodulation: New Devices That Can Ease Pain
Brian Grosberg, MD
Director
Hartford HealthCare Headache Center
You're Not Alone: What People Don't Get About Migraine
Lisa Jacobson
Founder
The Daily Migraine
Pass Features
What's Included with Your Access Pass
---
All Expert Videos
Unlimited online streaming and downloading
32 new expert videos
Mp4 video download format
Play, pause, rewind and enjoy these interviews and speakers at your own pace so you don't miss a thing
All Expert Audios
Mp3 Audios of all 32 interviews
Ideal for listening to while at the gym, in the car, or running errands
All Expert Transcripts
Transcripts of all 32 interviews with over 100 pages
Visuals and written copy from each interviews
Private Facebook Support Group
Migraine can be isolating. It can be difficult for others to understand what we're going through unless they have migraine as well. Sometimes we need a little extra help.
Get LIFETIME access to our private Facebook support group. It's a safe place for support, questions and encouragement
You'll be able to receive support from other well educated and experienced members of the Migraine World Summit community
Treatment Directory
A complete catalogue of all the treatments discussed in the Summit
More than 270 treatments catalogued
New and improved with more treatments added in 2017
Over 60 pages of Medicinal and Non Medicinal treatments
Guideline Recommended Treatments
Evidence-based evaluations of more than 100 treatments
Treatments ranked based on available scientific evidence
Rankings sourced from leading medical societies and institutions globally
USB of All Recordings
All Expert Videos (Mp4)
All Expert Audios (Mp3)
Shipped to your nominated postal address
Bound Book of Transcripts + Resources
Includes All Expert Video Transcripts
Includes Treatment Directory and Guidelines which was not available during the Summit
Shipped to your nominated postal address in a Printed Bound Book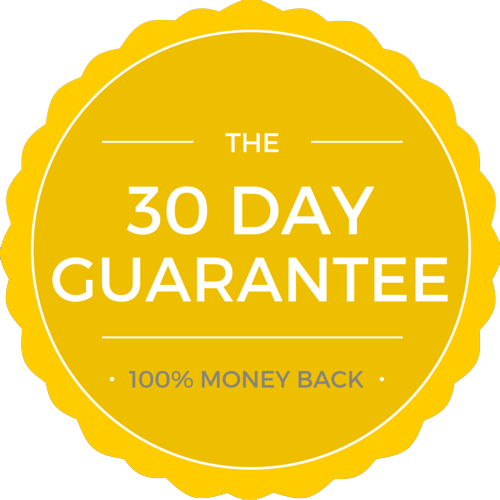 You're also protected by our:
100% MONEY BACK GUARANTEE
Each interview in Migraine World Summit contains a wealth of information to help you with your migraine or headache condition. We are confident you will love this material and our easy-to-navigate private online portal. However, if you aren't fully satisfied for any reason, simply reach out to our team within 30 days of your purchase, and we'll personally refund your money. It's that simple. Guaranteed.
Choose Your Pass
---
All Access Pass
$99.00 USD one-time
Unlimited Access & Downloads Via Your Private Online Portal
Add to Cart
VIP Access Pass
$169.00 USD one-time
Includes Unlimited Access & Downloads PLUS Treatment Directory & Guides
Add to Cart
Box Set Plus Pass
$269.00 USD one-time
Includes Everything in VIP PLUS a Boxed Set Of The Summit Home Deliverables
Add to Cart

*All prices are in USD (United States) currency
Compare Passes
All Access
VIP Access
Box Set Plus
All Expert Videos

All Access

VIP Access

Box Set Plus

All Expert Audios

All Access

VIP Access

Box Set Plus

All Expert Transcripts

All Access

VIP Access

Box Set Plus

Online Streaming

All Access

VIP Access

Box Set Plus

Online Downloading

All Access

VIP Access

Box Set Plus

Private Support Group

All Access

VIP Access

Box Set Plus

270 Treatment Directory

All Access

VIP Access

Box Set Plus

Guideline Recommended Treatments

All Access

VIP Access

Box Set Plus

USB of All Video & Audio Expert's Recordings (Home Delivery)

All Access

VIP Access

Box Set Plus

Bound Book of Transcripts, Treatment Directory & Guidelines (Home Delivery)

All Access

VIP Access

Box Set Plus

Pricing


*All prices are in USD (United States) currency

All Access

$99.00 USD one-time

Add to Cart

VIP Access

$169.00 USD one-time

Add to Cart

Box Set Plus

$269.00 USD one-time

Add to Cart
Frequently Asked Questions