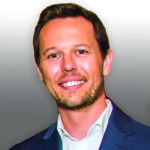 Carl Cincinnato
---
Next week will mark the one-year anniversary since the first CGRP (calcitonin gene-related peptide) antibodies became available in the US. These are the first preventive medicine designed specifically to reduce the frequency of migraine attacks. While they are not a cure, they have been incredibly helpful for many people living with chronic migraine.
However, few people realize that access to these medications may be at risk in the near future. That's what Kevin Lenaburg is working on. He's a seasoned health care advocate and caregiver for a loved one with chronic migraine. He is also the Executive Director of CHAMP, the Coalition For Headache And Migraine Patients. Kevin leads a group of unsung heroes working behind the scenes to improve access to new therapies and make them affordable for those who need them most.
Why can't people with migraine simply get the best treatment available for their condition?
Kevin Lenaburg: "In an ideal world, it would be just a simple question of the right medicine at the right time for the right patient. Unfortunately, it's much more complex than that. We have to deal with those questions, which are vitally important. But then there are all these other factors about who's going to be paying for this medicine and how accessible it's going to be for the patients. And it's different systems around the world that have different rules in place. Here in the United States, it's especially complex with the health care system that we have that is so fractured. And so CHAMP is working to help patients navigate that system and be advocates within that system to ensure that there's appropriate access to the amazing new medicines that are becoming available."
What initiatives have been put in place to help improve patient access?
Kevin Lenaburg: "The companies knew that with any new class of medicines coming out that there are going to be challenges for access. So they put in place a number of different systems… think of them as three different types: one is free medicines — for the couple of first doses free to give patients the opportunity to find out if these medicines work for them at an individual level. Then there are bridge programs which help to cover the medicines until a decision is made by the insurance companies whether or not they will be covering this. And that is either a blanket policy by the company or they may, at the individual level, make a decision. And then the third one is copay programs.
Once an insurance company has decided to cover the medicine, a lot of the costs get shifted over to the patients and it gets very expensive very quickly in many instances. And these copay programs help to cover those deductibles and those out-of-pocket costs for patients so they're more affordable."
What will happen when these programs run out?
Kevin Lenaburg: "…They are not indefinite programs. Sometimes they only last for 12 months for an individual patient, or the entire program is slated to end at the end of 2019, or there's a dollar figure cap for each individual that once they've reached that amount of benefits, it cuts off. So we anticipate that for those who started these treatments in about the first half, middle of 2018, and when they reach the middle of 2019, the leading edge will begin to be notified that these programs have run out for them. And, hopefully, in that intervening time that's been worked out with the insurance companies, that they will have consistent coverage.
But that might not be the case. They might have been enjoying this free program and then all of a sudden they get notified this program is ending. You got to work it out with your insurance company and that can be a long multi-month process and that creates a gap in care, anxiety, people can spiral with bad health outcomes if these CGRP medicines have been keeping them stable. So it's a real concern. And we're working to educate the patients so that at the individual level, if you're on one of these programs, make sure that you're talking with your insurance company and finding out, "Hey, are you going to cover this medicine when it comes down to it or not?" And if they say, "No," you need to be appealing that so that you'll be in place to have coverage be consistent for you. And then at the system level, we need advocates to help us, because we're working on policies at either the state or federal level or at the individual insurance company, where we're saying, "We want you to change your policies so you respect this disease and appropriately provide care."
What the full interview to find out:
How are new drugs developed and approved?
Why do insurance companies make drug development and approval even more complicated in the United States?
What are the biggest concerns that doctors and patient advocates have about newly released medications?
How would you describe patient expectations for anti-CGRP medications before they were approved? And now that the first few have been approved?
What were some of the biggest challenges going on behind the scenes to get CGRP therapies into people's hands?
What programs have manufacturers created to make CGRP medications affordable and accessible?
What happens if we do nothing?
What do terms like co-pay, forced choice, and layered therapies refer to and how might they affect people with migraine?
What is CHAMP, and how did it come to exist?
How is CHAMP training and empowering a new level of advocacy in migraine?
What are some of the ways people can support CHAMP's work?
What is your role and challenges as a caregiver for someone with migraine?
Watch Kevin Lenaburg's interview here or order it as part of the Summit package from this page >>
If you previously purchased the 2019 Migraine World Summit, you are all set to login to watch the full interview.
Posted in: Migraine Education
---