What do you do if your migraine seems to be changing or you have a new type of headache?
---
Description
Migraine can change over time but should periodically be reviewed for continued accuracy of diagnosis and appropriate management. Immediate communication with your provider is particularly critical any time headache changes suddenly and markedly. In those instances, investigation might be necessary to rule out anything that requires immediate attention.
Transcript
"Do not think that what you had when you were 21 is the same thing you have when you're 35, 39, 52, or 80. All these things change and they change over time. Every time the headache changes — because one of the cardinal red flags of investigating a headache is a changing headache — means you have to go back and say, 'Is this migraine? What is it?' People have to answer that question honestly. Generally, if the doctor knows what they're doing — and most of them do, and the headache specialists really do — they'll recognize it as a transformation over time. They won't necessarily get too concerned about it, but if you came in one day with a really significantly different headache than you've ever had before, that requires independent assessment, and probably investigation.
"If you come in in the first instance and said, 'Oh, I had an attack yesterday, Dr. Purdy.' 'Oh yeah?' 'It's just like I got hit in the back of the head by a baseball bat.' 'Uh-huh.' 'It felt like I was going to go unconscious.' 'Oh yes.' 'What are we going to do about it?' 'We're going to go do a CAT scan right now to make sure you didn't bleed in your brain.' The reason I
say that is if they had 10 episodes of getting hit over the head by a baseball bat and nothing bad happened, and they had a test, and they were all negative, then we can be a little bit more reassured it's nothing serious. You can never be 100% positive, so every time that happens you have to say, 'Oh well, maybe we'll look into it.' "
This is a short segment of a full video interview. View the full version by upgrading to an Access Pass bundle! Get FREE access to 8 expert interviews from Day 1 and Day 2 when you register today!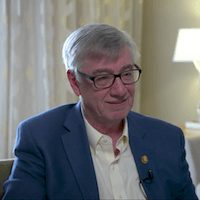 Allan Purdy, MD
Professor of Neurology
Dalhousie University, Canada
Dr. Allan Purdy is a neurologist and a professor at Dalhousie University in Nova Scotia, Canada. Dr. Purdy is currently President of the American Headache Society. He has also served as president of the Canadian Headache Society and on the Board of Directors for the International Headache Society.
Dr. Purdy is regarded as one of the most gifted teachers in the field, developing educational programs for physicians around the world who care for patients with headache diseases. In addition to his research and education work, Dr. Purdy continues to see headache patients in his Canadian clinic on a part-time basis.