How can you have an effective conversation for migraine diagnosis when appointments are so short?
---
Description
Communicating a complete medical history to your doctor is essential to accurate diagnosis and treatment. But ensuring there is enough time for that can be tricky, given limitations on appointment lengths in many instances.
Transcript
"I'll take as long as necessary to get the right diagnosis. However, in family practice they only probably have about 20 minutes to see the physician. There's no way they can obtain this kind of information in such a short time. When I traveled to Japan, I was told that a lot of neurologists there only had about five minutes to deal with a patient. In India, the time might even be less. You really, really have to take the time. If you can't take the time, you
have to arrange to take it on another occasion. In that regard, I have a trick: What I do is say, 'Well you see them, and if you haven't finished the history or physical, bring them back, continue, keep doing it until you're satisfied you have the diagnosis.' If you have the correct diagnosis, everything will go reasonably well. If it's incorrect, or if there are misdiagnoses — which rarely occurs — then the likelihood [is] there will be trouble down the line."
This is a short segment of a full video interview. View the full version by upgrading to an Access Pass bundle! Get FREE access to 8 expert interviews from Day 1 and Day 2 when you register today!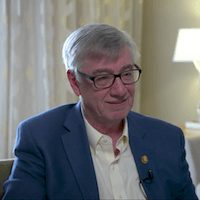 Allan Purdy, MD
Professor of Neurology
Dalhousie University, Canada
Dr. Allan Purdy is a neurologist and a professor at Dalhousie University in Nova Scotia, Canada. Dr. Purdy is currently President of the American Headache Society. He has also served as president of the Canadian Headache Society and on the Board of Directors for the International Headache Society.
Dr. Purdy is regarded as one of the most gifted teachers in the field, developing educational programs for physicians around the world who care for patients with headache diseases. In addition to his research and education work, Dr. Purdy continues to see headache patients in his Canadian clinic on a part-time basis.