Does stress cause migraine attacks?
---
Description
There are important questions about the relationship between stress and migraine. Many wonder if stress can trigger migraine attacks. Some are curious about the impact of stress based on migraine type and frequency.
Transcript
"We've had debates at international meetings on whether stress actually triggers migraine
or not. I'm not totally convinced, but in the true sense of what the average person thinks of stress, I believe it is important. Certainly we know that people who had migraine and had a bad week, working very hard, very adrenergic as we say, go home at the weekend, and they have a terrible letdown headache. That can ruin their weekend. Most people will say stress is probably a factor, particularly if they have more than episodic migraines."
This is a short segment of a full video interview. View the full version by upgrading to an Access Pass bundle! Get FREE access to 8 expert interviews from Day 1 and Day 2 when you register today!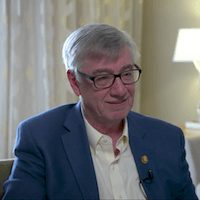 Allan Purdy, MD
Professor of Neurology
Dalhousie University, Canada
Dr. Allan Purdy is a neurologist and a professor at Dalhousie University in Nova Scotia, Canada. Dr. Purdy is currently President of the American Headache Society. He has also served as president of the Canadian Headache Society and on the Board of Directors for the International Headache Society.
Dr. Purdy is regarded as one of the most gifted teachers in the field, developing educational programs for physicians around the world who care for patients with headache diseases. In addition to his research and education work, Dr. Purdy continues to see headache patients in his Canadian clinic on a part-time basis.