Do you have to see a doctor for migraine?
---
Description
Acceptance of a migraine diagnosis is important. Learning about the disease and how to most effectively manage it can then follow so you can live your best possible life. 
Transcript
"Now let me tell you something: You have to understand that you have migraine. If you're sure of the diagnosis, because you did everything I told you, you look them in the eye and
say, 'You have migraine, you can join the club.' 'What club is that?' I said, 'I haven't made it yet, I'm going to call it Migraine Anonymous.' 'What do you mean?' 'My name is Jane, and I have migraine. You have to stand up and say that.' We have a laugh and communication, and ultimately they say, 'Is that important?' I said, 'Yes, because until you accept that's what you have — and it can be a very disabling disorder, or just an infrequent nuisance — then you will never understand it. How can you get better if you don't know what's wrong with you?' '"
This is a short segment of a full video interview. View the full version by upgrading to an Access Pass bundle! Get FREE access to 8 expert interviews from Day 1 and Day 2 when you register today!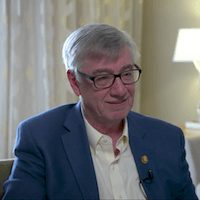 Allan Purdy, MD
Professor of Neurology
Dalhousie University, Canada
Dr. Allan Purdy is a neurologist and a professor at Dalhousie University in Nova Scotia, Canada. Dr. Purdy is currently President of the American Headache Society. He has also served as president of the Canadian Headache Society and on the Board of Directors for the International Headache Society.
Dr. Purdy is regarded as one of the most gifted teachers in the field, developing educational programs for physicians around the world who care for patients with headache diseases. In addition to his research and education work, Dr. Purdy continues to see headache patients in his Canadian clinic on a part-time basis.