How do you differentiate the symptoms of hemiplegic migraine from a stroke?
---
Description
The main difference between hemiplegic migraine and stroke is that the aura symptoms of hemiplegic migraine come on gradually, whereas a stroke and its related symptoms will occur suddenly.
Transcript
"Hemiplegic migraine ... and this is important, because you can come in with hemiplegia, or weakness on one side of the body, and that will mimic a stroke. These patients can be distinguished as migraine by one of two ways: One, they have the visual illusion or the sensory symptom, that tingling numbness, or a problem with language. And number two, it occurs in sequence. First, they might have the visual symptom, and then the weakness starts, and then the numbness progresses. So it occurs in sequence. Where, with stroke, it's a stroke. All of those symptoms occur almost simultaneously. That sequential involvement — visual, sensory, motor, language — is one telltale sign that it's migraine."
Discussion
With hemiplegic migraine, the aura symptoms will occur gradually and usually begin with some sort of visual symptom. Sensory symptoms, such as tingling or numbness or a problem with language, will then follow the visual symptoms. These symptoms will always occur gradually, one at a time, and in sequence. With a stroke, however, all of the symptoms that are similar to those with hemiplegic migraine occur suddenly and simultaneously. The differentiating factor, therefore, is the sequential nature of hemiplegic symptoms: visual, sensory, motor, and then language.
This is a short segment of a full video interview. View the full version by upgrading to an Access Pass bundle! Get FREE access to 8 expert interviews from Day 1 and Day 2 when you register today!
David Dodick, MD
Professor (Emeritus)
Mayo Clinic, Arizona
David Dodick, M.D., FAAN, is a professor of neurology at the Mayo Clinic College of Medicine and Science in Scottsdale, Arizona. He is the director of the headache program and the sports neurology and concussion program at Mayo Clinic in Arizona. He is an adjunct professor in the department of neurosciences, Norwegian University of Science and Technology. Dr. Dodick is board certified by the Royal College of Physicians and Surgeons of Canada and the American Board of Psychiatry and Neurology (ABPN). He also holds United Council for Neurologic Subspecialties certification in headache medicine and ABPN certification in vascular neurology.
Dr. Dodick has authored more than 380 peer-reviewed publications and authored/edited 10 books. He is the chair of the American Migraine Foundation, chair of the American Academy of Neurology (AAN) Annual Program Concussion Committee, co-director of the American Registry of Migraine Research, chair of the International Registry for Migraine Research, chair of the International Headache Society Global Patient Advocacy Coalition, co-director of the Annual AAN Sports Concussion Conference, president-elect of the International Concussion Society, immediate past-president of the International Headache Society, former editor-in-chief of Cephalalgia, and past-president of the American Headache Society.
Related Questions
Professor Lyn Griffiths, PhD, BSc Hons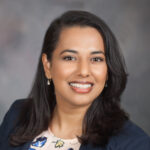 Amaal J. Starling, MD, FAHS, FAAN